Teaching bee keeping to indigenous Karen refugee & displaced people in December-January has me planning NOW and thinking about long term food supply for the bees in the years ahead. In the pristine jungles along the Thai Burma border, the wild bees naturally hibernate and live off the honey in their hives when there is little food about.
Our challenge is to extend those periods of flowering available food sources by carefully adding flowering trees around the edges of refugee camps, settlements and small villages, and community places like the grounds of the new Karen State Field Hospital. Tree planting is needing to be far more strategic, as we want to include trees that possibly also have secondary income possibilities, like fruits that can be harvested & sold, leaves that might be dried and used for herbal products, or seeds that can be sold and used for oil pressing.
The rugged mountains along the Thai-Burma border are temperate sub-tropical rain forest, but many of the trees you will see me posting about CAN and DO grow in other countries, like Northern Australia, Florida and South America, as well as India, parts of Africa and countries like Bangladesh – basically anywhere along the sub-tropical equatorial belt.
Why are we trying to augment nature's year-round floral food supply? Because, unlike the bees, the Karen refugee people DON'T have a stash of food or community to feed off, they NO LONGER have United Nations Food Aid and it's still IMPOSSIBLE for them to return to their native lands inside Burma, where the 60+ year civil war drags on. It's NOT newsworthy by western standards, but it's ongoing and terrible. Hundreds of thousands of people without homes, permanent villages or food security. My company, Pure Thai Natural Co Ltd, has developed the Organic Frontiers project in collaboration with the Karen Department of Health and Welfare and the Karen National Union to provide sustainable and organic micro-enterprise opportunities to people from these displaced communities. The beeswax used in our Intensive Skin Repair Balm, lip balms, sports rubs, tattoo after care balms and our super-popular Foot Repair Balm use beeswax hand-harvested by these displaced people. And with the cash we pay them for it, they are beginning to have some food security for themselves and their children.
It's a tiny beginning; a drop in an ocean of need.
So, back to selecting our priority trees.
Our #1 Trees for Bees, if you recall, was the Indian Cork Tree. If you missed that post, Here It Is Again.
Our #2 Trees for Bees selection is the glorious Cassia Fistula Linn., sometimes called the Golden Shower Tree by westerners. In India, where it originates, it is called Indian Laburnum or sometimes Raja vriksha. In Thailand, where it is the official national tree, it is called 'Dton Ratchaphruek' (ราชพฤกษ์). It's highly fragrant and literally drips with gorgeous yellow blossoms during the peak of the dry season when all else is withered and shriveled. It's also incredibly heat and drought tolerant, once it's established. How hot is the long dry season? In the North Western mountains where this tree will be planted, 40C (105F) is a common occurrence for literally months on end.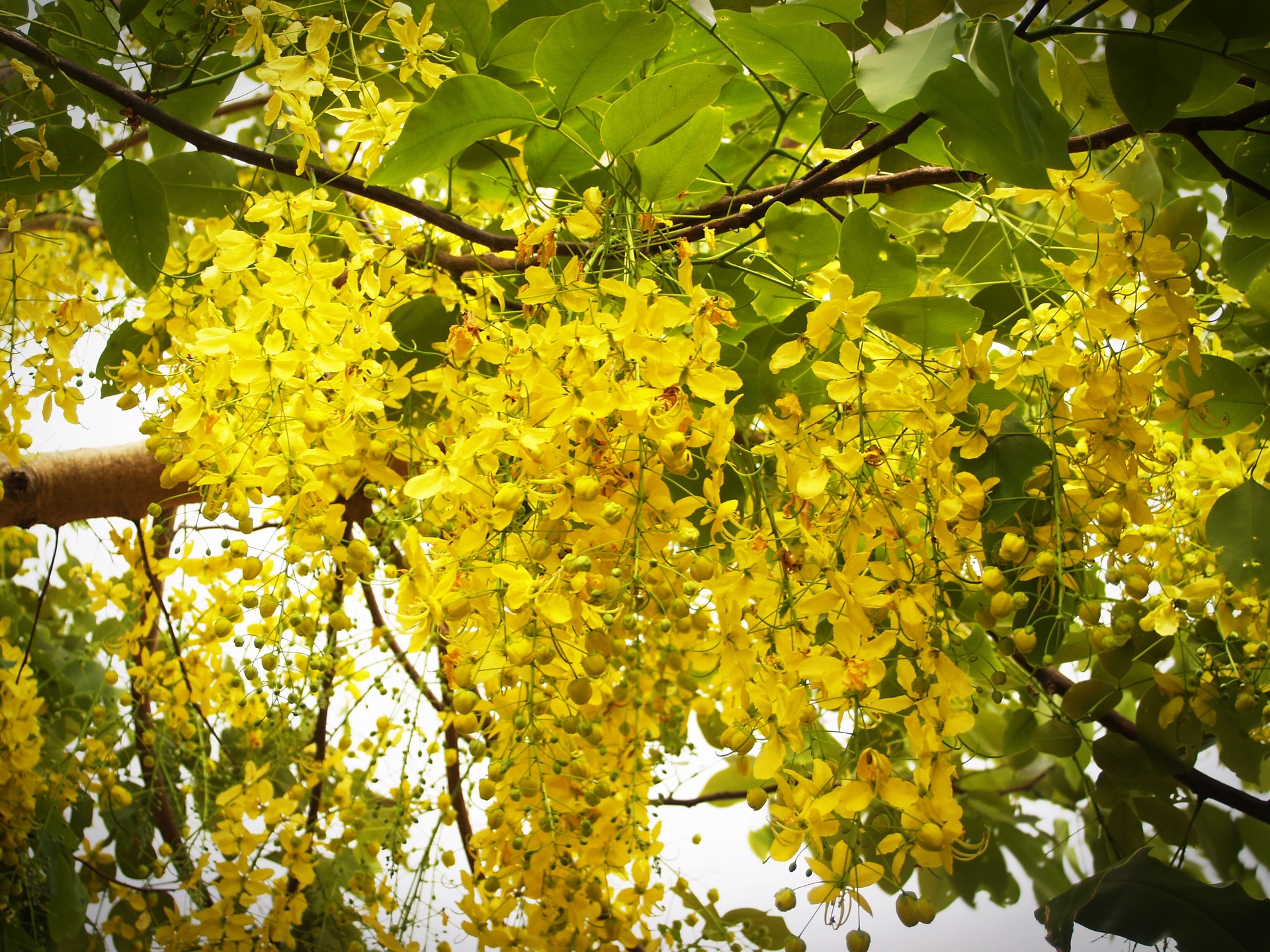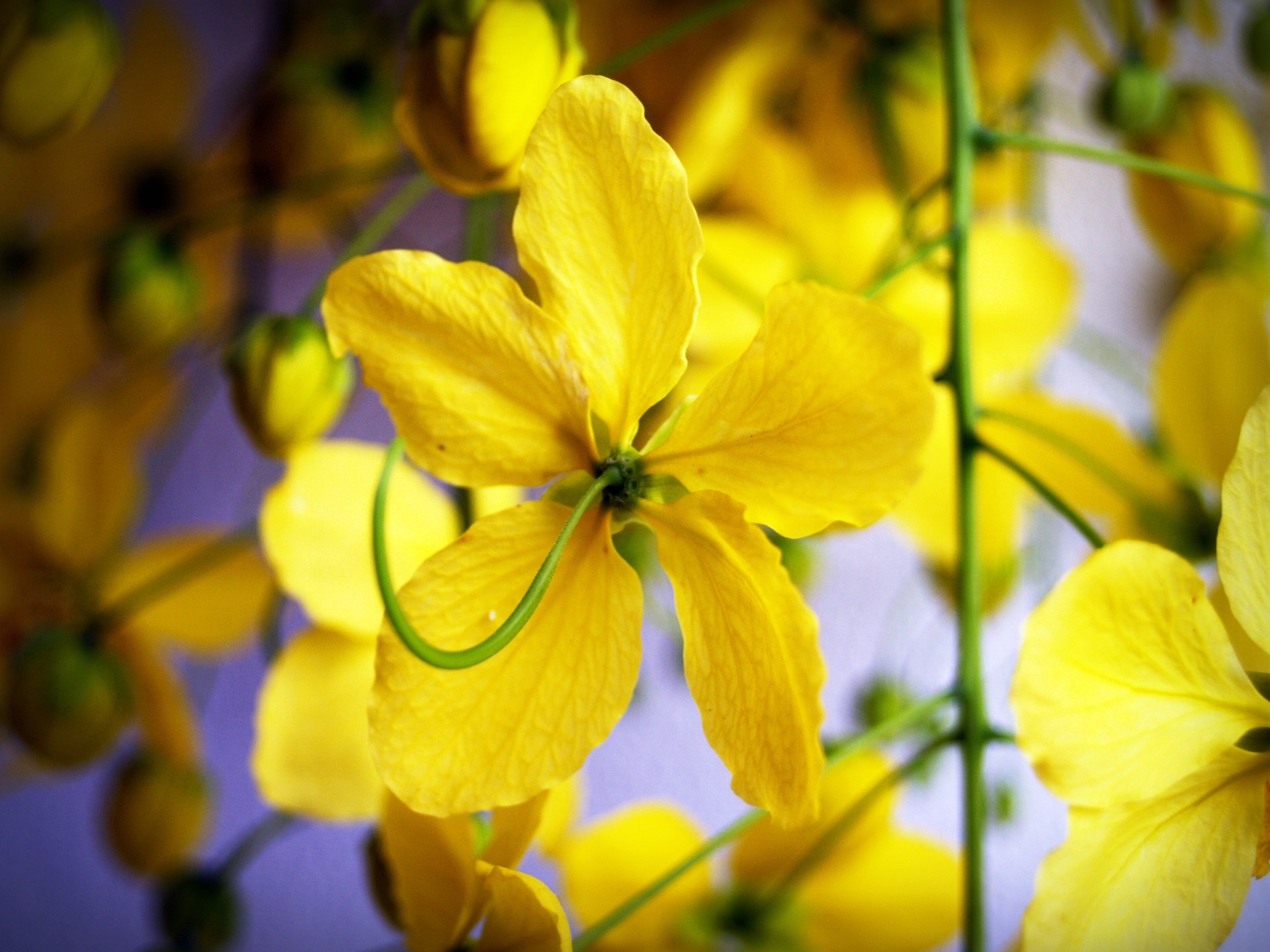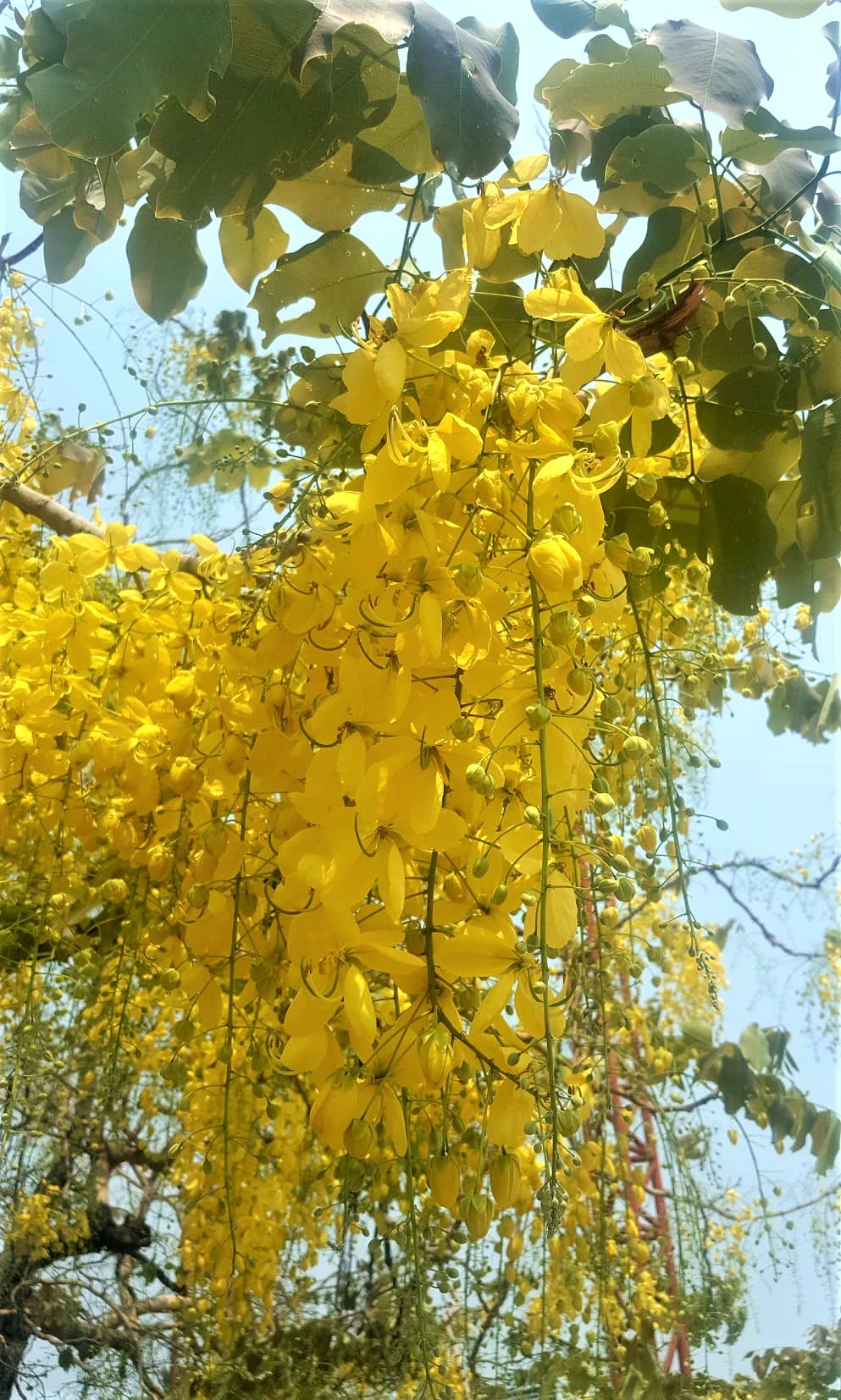 Original image
How well does the Cassia tree do in urban Chiang Mai? It THRIVES and is a glorious addition to our streetscapes, having been mass-planted in honour of the Thai Royal House, since yellow was the lucky birth colour of Thailand's late beloved King Rama IX, Bhumibol Adjuladev, who ruled for more than 60 years.
Original image
In Ayurveda, Cassia fistula is commonly known as Aragvadha. It's bark is used to treat inflammation and swelling, and is boiled to create a cleaning wash for ulcers and open wounds. Cassia pacifies the 3 doshas of vata, pitta and kapha. The fruit pulp is an extremely potent laxative and used to treat poisonings; use without a skilled herbalist is not recommended. The flowers are made into a tea for fever, the roots boiled and the liquid used as a diuretic.
Medicinally it has been various pharmacological activities like antifungal, antioxidants, antimicrobial, anti-inflammatory, anti tumour , hepatoprotective, hypoglycemic activity.it is recommended for the treatment of Jaundice, Gout, Fatty Liver, Liver Disorder, Bronchitis, Skin disease and so on. In Ayurvedic medicine, Golden Shower Tree is known as "disease killer" and it pacifies the 3 doshas of vaat, pitta and kapha. It expels the pitta and kapha from the body. Its fruit pulp is used as mild laxative. as well as cardiac conditions and stomach problems such as acid reflux. Flowers used for fever, root as a diuretic. The bark and leaves are used for skin diseases. The seeds are recognised as antibilious, aperitif, carminative, and laxative while the root is used for curing adenopathy, burning sensations, leprosy, skin diseases, syphilis, and tubercular glands. The leaves of the tree is used for erysipelas, malaria, rheumatism, and ulcers, the buds are used for biliousness, constipation, fever, leprosy, and skin disease and the fruit for abdominal pain, constipation, fever, heart disease, and leprosy. Thus every part of this plant is recognized for its medicinal properties. Source
This is definitely a tree that will benefit the mountain communities of displaced refugee people, especially with some teaching and guidance about natural medicine in their own Karen language. The timber, too, is of some value and used in the production of boutique furniture. Cassia is easy to propagate, glorious to look at, grows quickly and makes for a large and beautiful shade tree. Most importantly, it will feed gerzillions of hungry bees at a time of year when little else is flowering for them. Happy, well-fed bees means the beginning of a small, sustainable, organic livelihood for landless, displaced, Karen refugee people.
Feeling happy in my Thai natural world, and getting ready for our bees!!
BlissednBlessed
---