Watching our Anchan – the Japanese Blue Butterfly Pea (Clitoria ternatea) – blooming extravagantly, it's almost criminal to let her blooms go to waste. Throughout the 8-month-long hot seasons here Thailand – hot/dry & hot/wet – I often make a big jug of fresh Anchan, Lime & Ginger iced tea. Refreshing, cooling and calming – naturally antioxidant, anti-inflammatory and adaptogenic. It's a standard in our house, most days.
As November chugs along and the days grow a little cooler, the Anchan shows no sign of slowing down on the blooming front. Au contraire. My thoughts have turned to overseas guests, year end, small hospitality and thank you gifts, and the Festive season.
And so my herbal tea making has begun.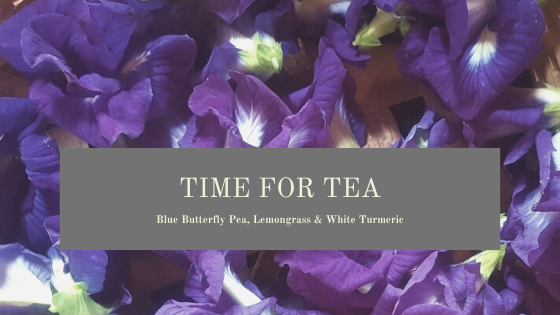 I start with the Anchan. Every day it looks something like this: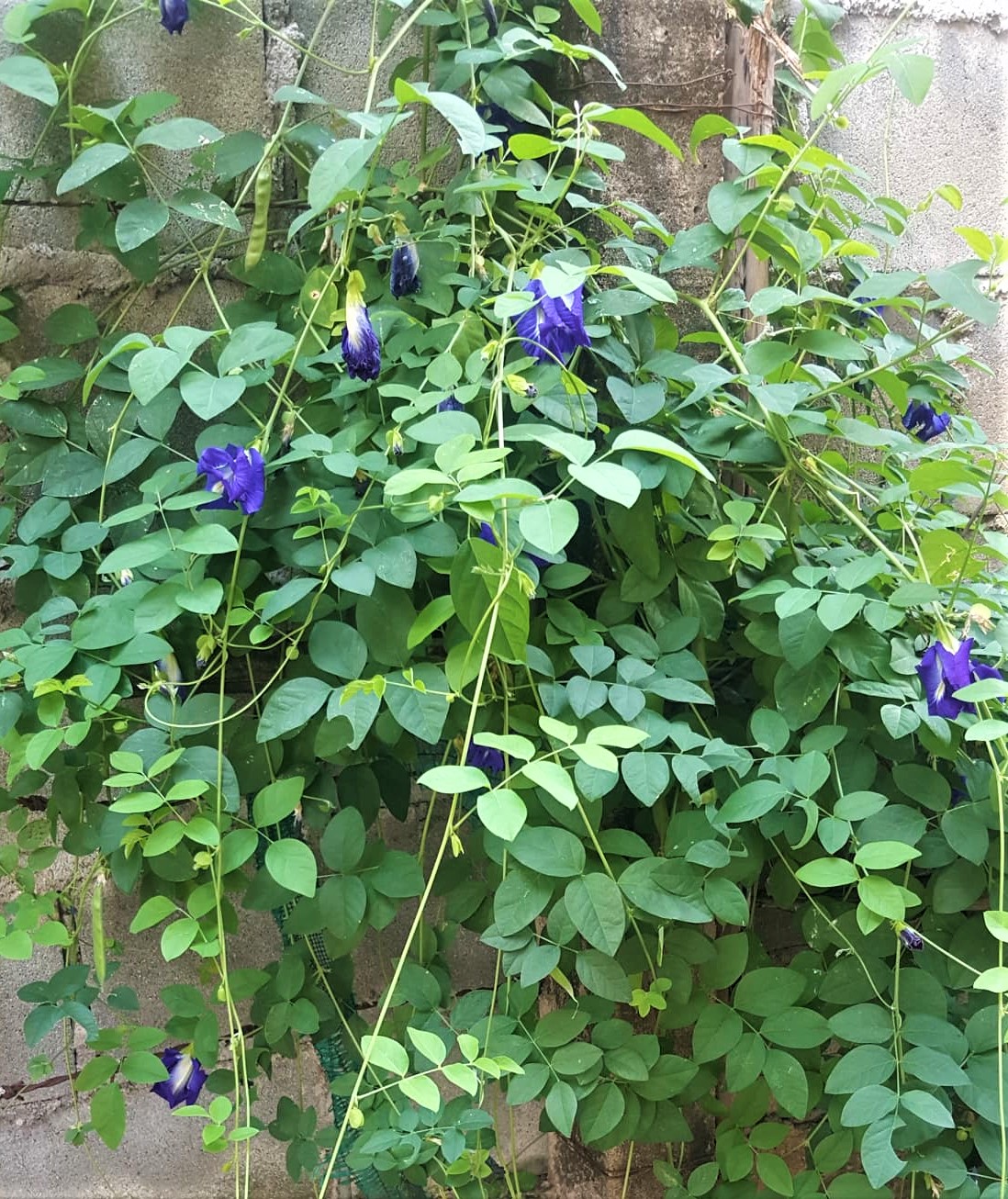 We have plants climbing on 3 fences, so most days there is a small basket of flowers to be picked.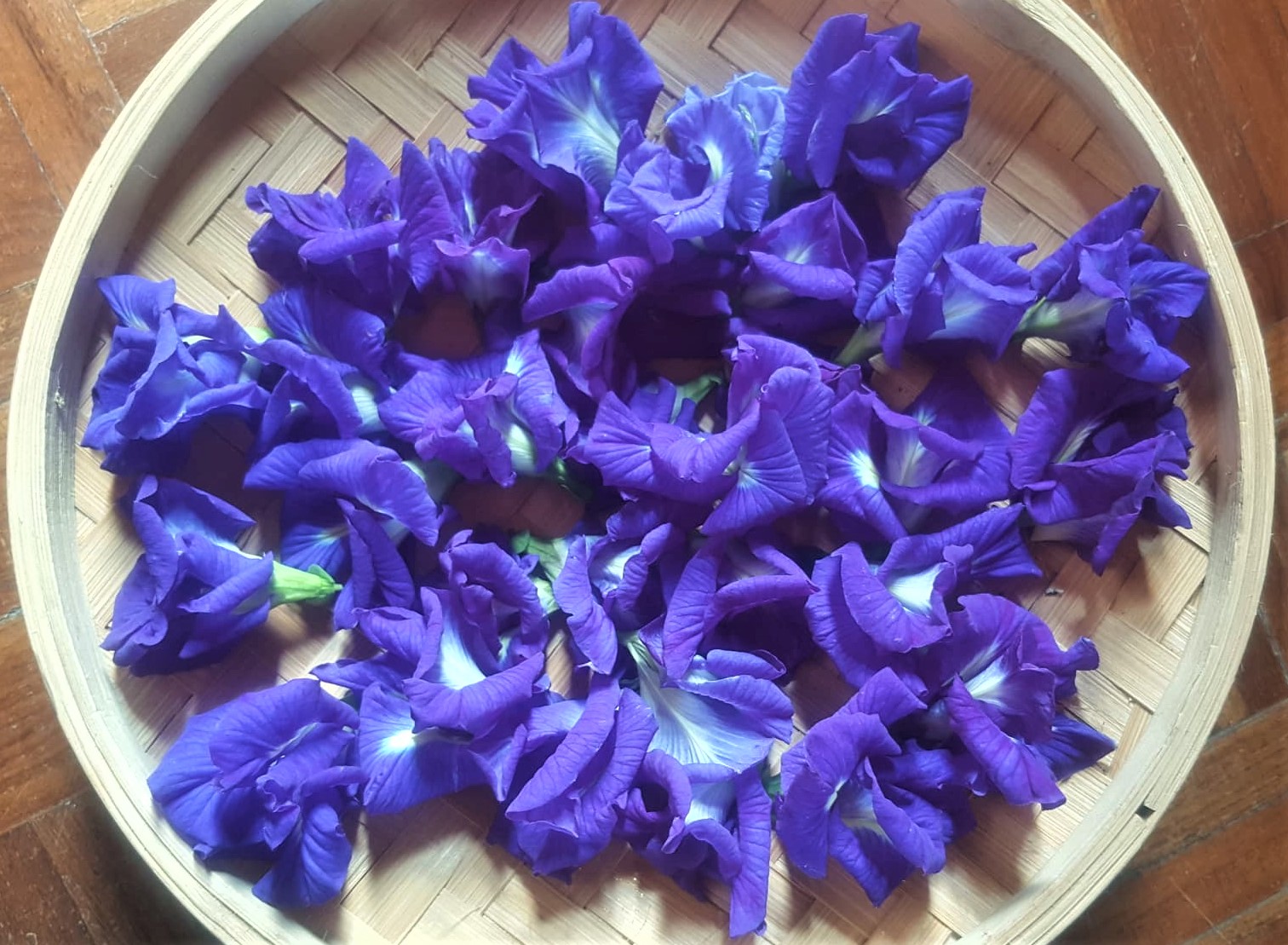 They are simply placed in a warm spot, high in our kitchen, in a well-ventilated bamboo basket, and allowed to dry naturally. I give the baskets a shake & toss every day. NEVER sun dry Anchan – the delicate flavenoids and anti-oxidants are damaged by excess exposure to light and heat. How long does it take to dry Anchan flowers like this? In my kitchen, only about 2-3 days. Each day I check and when one batch is ready, I store in an airtight jar.
How do I decide on the herbs to pair with it? Usually Mother Earth has it pretty well sorted, so I simply look to see what she has already supplied that is also ready to harvest from the garden and dry at the same time. In my garden, right now, the tender new season shoots of lemongrass call my name.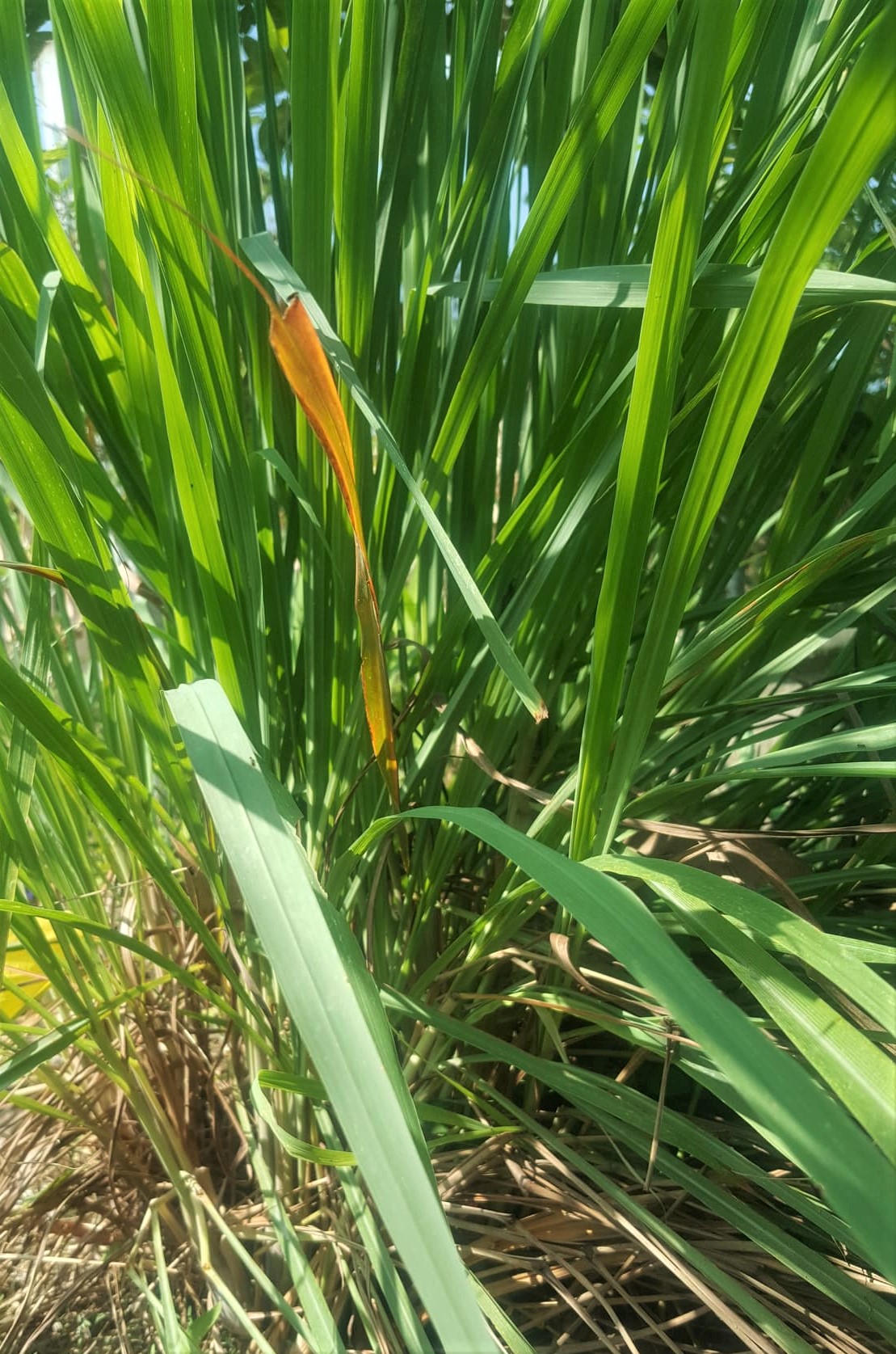 I pick the tender, juicy stems, trim and compost the top half, and then slice the lower end of the stalk and leaves into roughly inch long pieces. They too, go into bamboo baskets to be dried out of direct sunlight in a warm spot in the kitchen.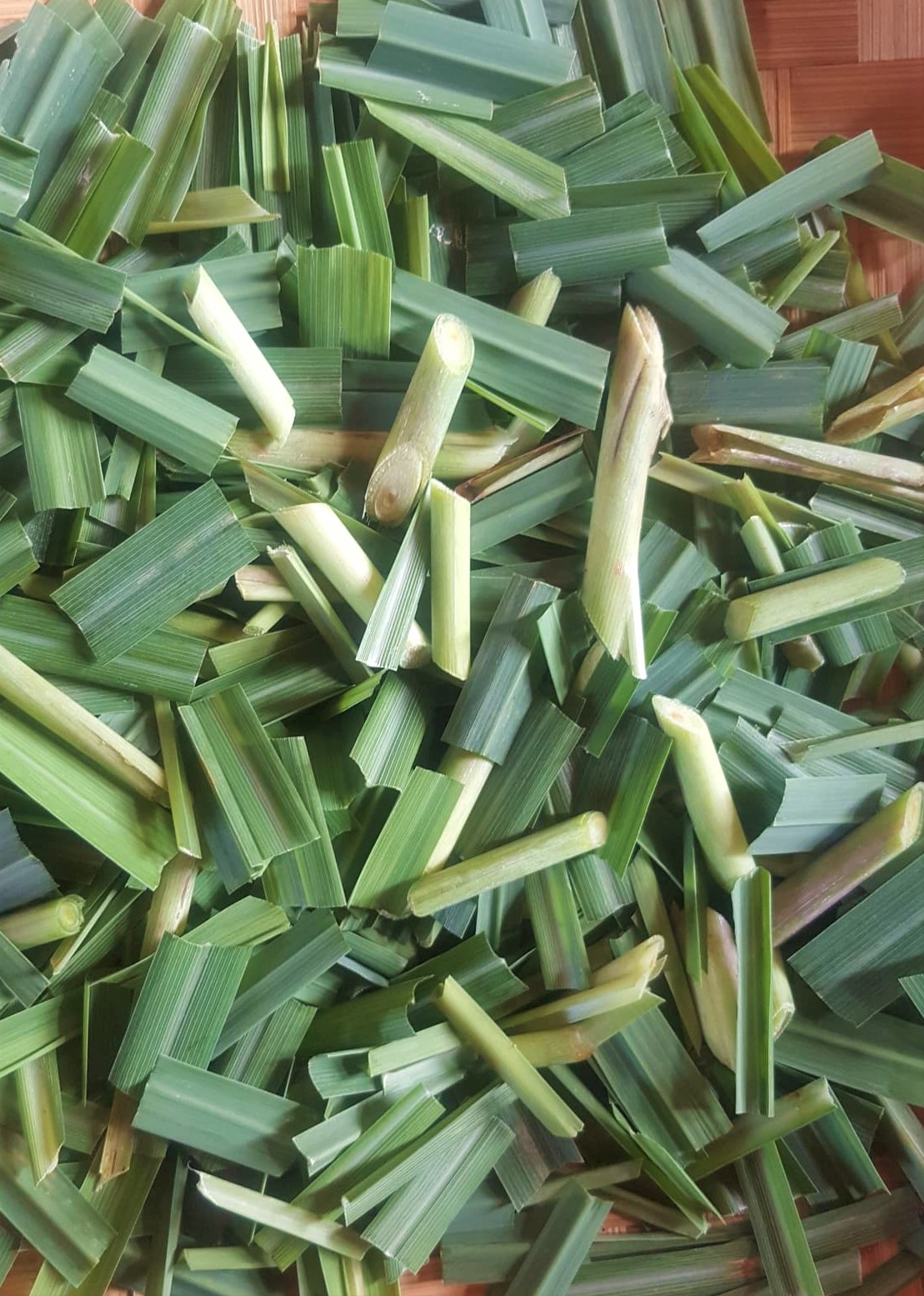 It's not the time to be harvesting White Turmeric right now – it's busily forming juicy rhizomes after the rains. But I have a LOT set aside from last year's harvest, that is nice & finely sliced, richly fragrant and already dry.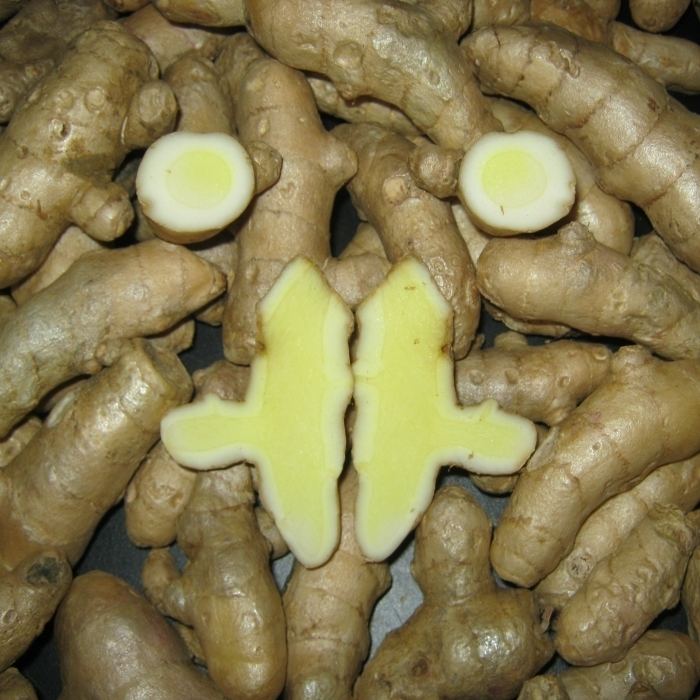 White Turmeric, Curcuma zedoaria, is a much gentler taste. It also has different properties than standard yellow turmeric. It's medicinal properties are MANY (I feel a whole new post coming on simply to do it justice) but for THIS tea I chose it because it is analgesic (pain relieving), naturally anti-histamine, anti-inflammatory AND antibacterial – the perfect addition to a warming cup of cool-season tea and nicely enhancing the anti-inflammatory effects of the lemongrass, and boosting the anti-oxidant properties of the adaptogenic Anchan. You can read some of the clinical properties of white turmeric in this clinical review.
Basically, this is the tea for when you are chilled and borderline feeling poorly. Enjoyed regularly in cooler weather, it will help offset chills, colds and the aches & pains that many of us feel when the thermometer heads south.
My tea is organic and loved on from my own garden. I will make a large jar to enjoy and serve to guests, and yes, also make some pretty boxes to gift and send abroad.
Life is good, and there is never a day that isn't made better by a carefully prepared cup of herbal tea, served with love.
BlissednBlessed in my natural Thai world.
---