"So what do YOU do and where do YOU go?!" is the oft-asked question of visitors and travelers. 16 years living in Thailand as a Thai-speaking solo mom and entrepreneur probably qualifies me as an almost-local by now, and people are anxious to deselect as novice travelers and find those sweet spots where things are still relatively traditional and authentic..
The annual festival of Loy Krathong is upon us and Chiang Mai, Northern Thailand is literally jumping and popping with tourists. Seemingly gerzillions of them! It is a magnificent time of year, gorgeous weather and yes, it IS my favourite of the myriad of Thai festivals.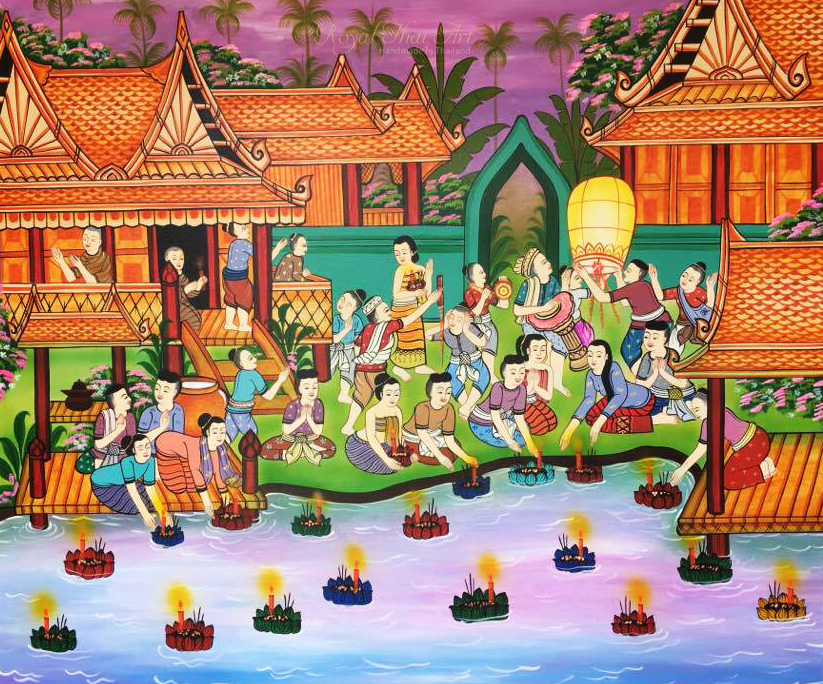 Firstly, some clarification. Loy Krathong is NOT a lantern festival. It is a Lanna (Northern Thai Kingdom) water festival to honour the River Goddess after the end of the monsoon rains. We thank Her by floating our thanks into the river as flood waters subside. We loy a krathong – a small floating banana 'boat' holding flowers, incense and a candle. We apologize for polluting her and plundering her fish and water plants, and we acknowledge that Mother Water is Life. Loy Krathong is mostly a Northern Thai festival and also celebrated in Burma, Laos and Cambodia. Other than Chiang Mai, THE place to celebrate Loy Krathong is at the ancient historical park at Sii Satchanalai in Sukothai. Everything, everywhere else is a poor, pale shadow.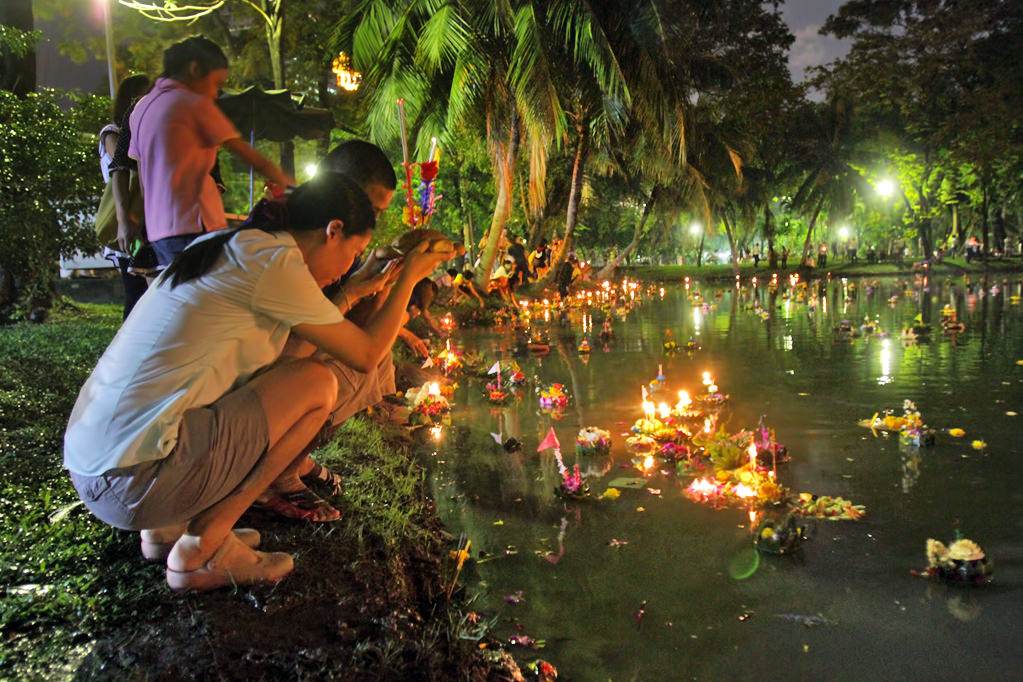 Loy Krathong always coincides (same moon in same lunar month) with the more Chinese festival of Yee Peng. Instead of sending thanks to Mother Water, we offer our prayers and gratitude as the rains end with paper sky lanterns called Com Loy.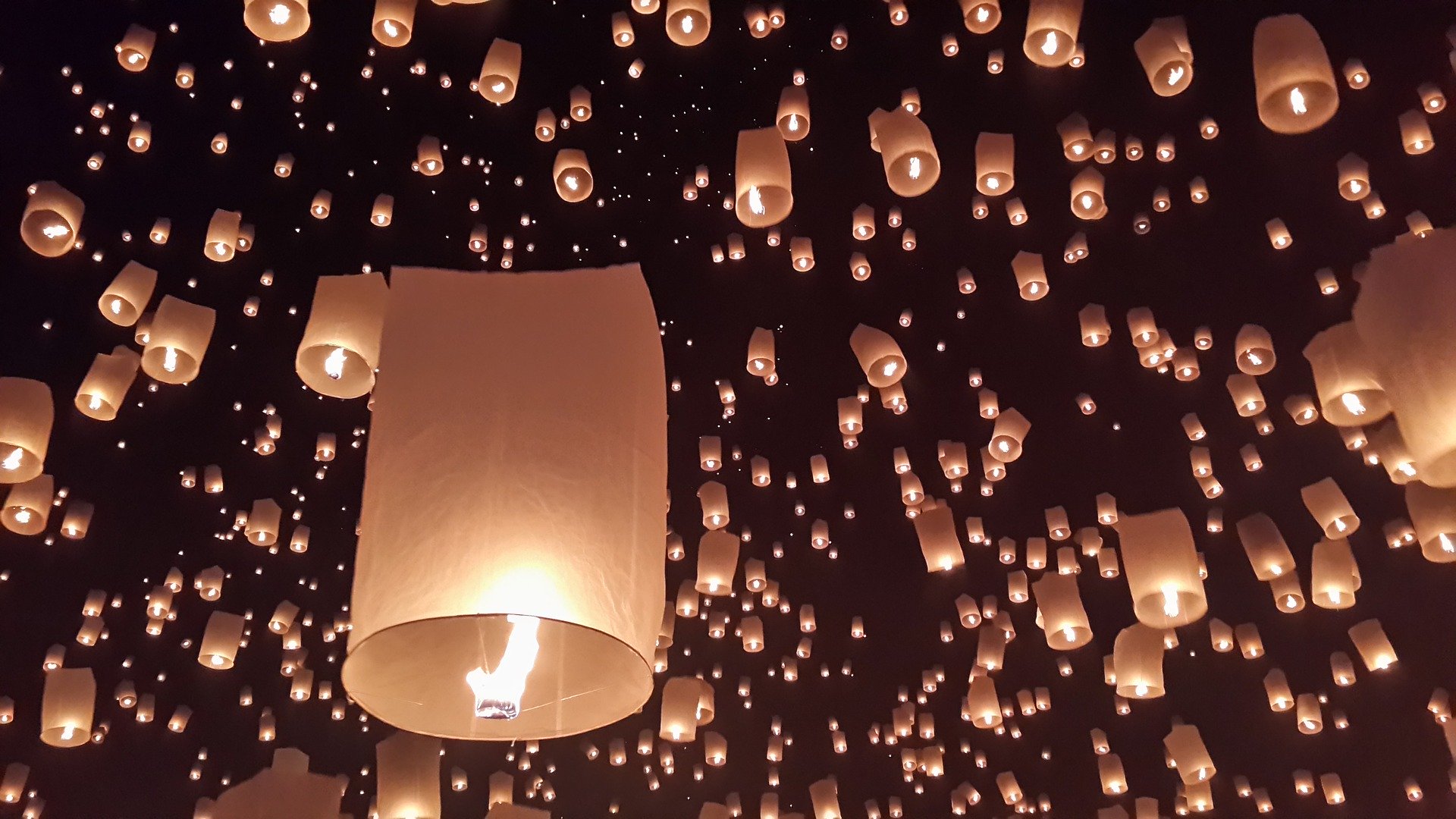 So what do WE do and how do WE celebrate?
We've always made our own krathong. Yes, this is my Little Miss 15 way back when. Please don't ask her about the year I got so elaborate that my krathong sank immediately after hitting the water under the weight of all the flowers. LOL.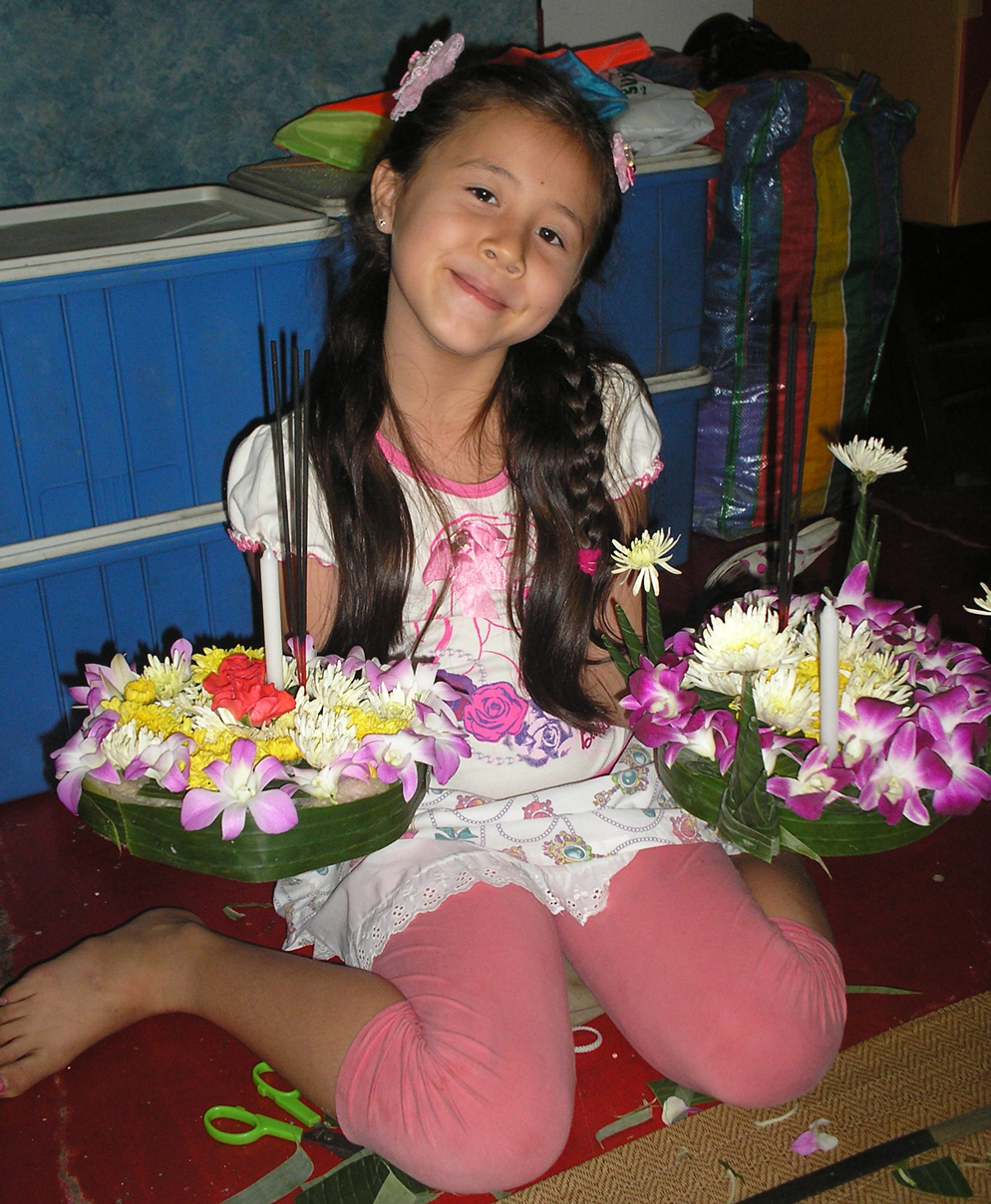 If, by chance, we can't manage to make one, we buy one from the poorest looking vendor in a shitty selling spot, and we usually choose the lop sided one that no one else is likely to buy. Why? Cos this is an important retail time for the very poor in Thailand after a long, hard, tourist-less rainy season. Many people have debts to repay and the krathongs they offer for sale are made with what they have blooming in their gardens.
Yes, we buy a Com Loy. 1 each. And we release them with whispered prayers and wishes. We buy them, again, from the vendor at the end of the strip who needs to sell.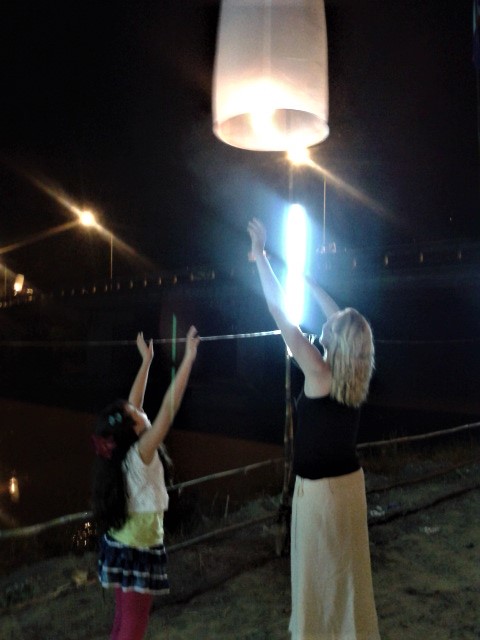 Gosh! She was that small? How the years fly.
And we light the little clay candles at dusk on Loy Krathong night, to draw the new energy and the light in.
Yes, that's our first shop in Moon Muang Soi 6, for those of you who remember.
And then we head down to the river! Mae Nam Ping.
BUT WHERE? I hear you shriek!
Haha… we AVOID Tapae Gate, Narawat Bridge, Rama IV Bridge and the general tourist areas. We drive in the back way and usually park along Changklan Road and walk down to Wat Chai Mongkhon.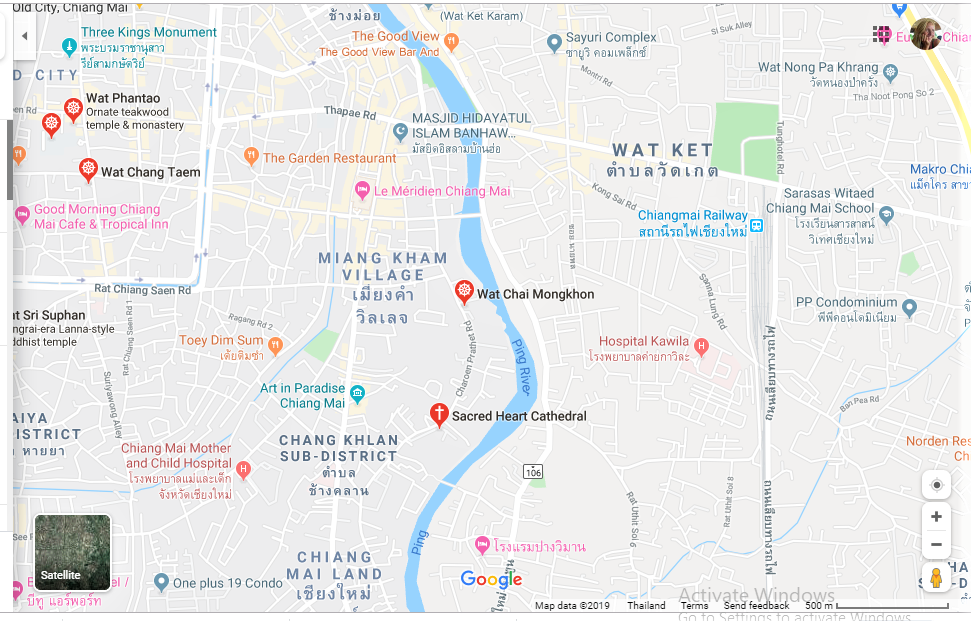 You can go to the temple, hear the monks chanting, launch a krathong and your com loy, eat some street food and enjoy the amazing fireworks without worrying about the Iron Bridge collapsing under the weight of all the people crammed onto it.
Our second favourite Loy Krathong spot is Wat Farham.
The Loy Krathong celebrations last for 2-3-4 nights and so we always make sure to spend one evening visiting our old neighbourhood riverside at Talad Baan Tor.
Environmental Issues?
NEVER buy a polystyrene or bread krathong. The quasi-eco-green bread krathongs don't 'feed the fish" – they kill the fish and create blue-green algae bloom down river. A big no no. Polystyrene is also an obvious one to avoid.
We also try to buy only local, natural flowers and not use flowers that have been obviously synthetically dyed. Yes, we try to use flowers from our garden and the local market, rather than putting more money into the industrial chemical-hormone-driven flower empire along the river.
Local governments have special river cleaning floating devices to remove the glut of banana-boat krathongs from the river downstream, and they are then composted. The Thai are a pragmatic people and the River Goddess seems OK with it.
Com Loy? They're made from bamboo and tissue paper. Yes, they fall to the ground when their toilet-roll-wax-oil-soaked wicks burn out. And the Thai people are AMAZING at next day clean up!
Personally, I'm more concerned about the energetic environmental nasty caused by unhappy, critical western people who don't know how to show gratitude or how to celebrate.
As I write this, our local temple in Mae Rim has monks chanting, the crickets are competing with the first fireworks and it would appear that Loy Krathong is already in full swing.
Enjoy. Be safe. Don't buy the cheap (dangerous!) fireworks and please take care of our furry friends who are easily scared and upset by the fireworks.
---