Travel, over-thinking, decisions, financial stress, work pressure, your love life in tatters…. they're all major contributors to sleep issues. It happen to most of us, occasionally. Some people struggle with it often, and it has a huge impact on their health, mood, energy and their ability to think, function and create.
I am a great believer in the easiest, effective natural treatments needing to be explored first. If you have struggle to fall asleep and someone tells you that an obscure herb from the upper mountainous slopes of Bulgaria is IT for getting to sleep, while it may be fascinating, the chances of you obtaining and trying it are not terribly good. Especially if you live in Thailand.
Today someone here in Chiang Mai asked me about sleep issues and I found myself thinking about all sorts of out-of-the-box suggestions. And then I checked myself and was reminded of the Spirit Gate. And smiled.
This has to be the EASIEST natural medicine therapy EVER to help people sleep. You don't need to get out of bed, boil anything, drink anything or buy anything.
Acupressure is an ancient healing Chinese art, where points along the meridian lines are compressed firmly or massaged strongly for 2-3-5 minutes. For insomnia, it's as simple as locating the.Spirit Gate point on each hand.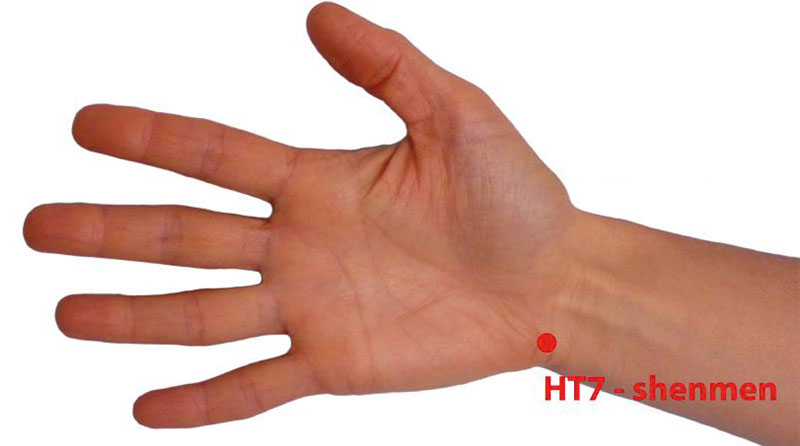 Much gratitude to our friends at https://davidwolfe.com for the image.
Apply firm pressure and massage for 2-3-5 minutes on each hand. Breathe into the sensation. It is likely to feel tender when you are having difficulty sleeping. Breathe with awareness into the tenderness and keep massaging.
Acupressure unblocks energy and rebalances our bodies. I have found a little gratitude & self-talk helps too.
Lay comfortably on your back in the dark and breathe.
Slowly start by locating the point on one hand, and holding pressure on it with your thumb for the count of 10 long, slow deeps breaths with an extended exhale. Breathe in Om 1, Om 2, Om 3, Om 4 and Breathe OUT Om 1, Om 2, Om 3, Om 4, Om 5, Om 6, Om 7, Om 8.
Then start taking to yourself (in your mind), while you firmly massage the point in little circles with your thumb:
Thank you that my body knows how to let go, sleep and rest.
Thank you that this ancient wisdom is available to me.
Everything in nature has its turn to rest. Thank you that it's my turn now.
I'm grateful to be so tired because I'm ready to sleep.
It feels so good to relax and sink into sleep.
LISTEN to your breath and follow it with your awareness. If you find your thoughts wandering or the worries returning, go back to simply counting and following your breath, with awareness.
Breathe in Om 1, Om 2, Om 3, Om 4 and Breathe OUT Om 1, Om 2, Om 3, Om 4, Om 5, Om 6, Om 7, Om 8.
Still awake? Change sides and repeat.
If your lover is having trouble sleeping, one of the loveliest things to do is put on some soft meditation music in the dark, and gently & firmly massage their Spirit Gate point on each hand while very softly counting them through the breathing. As their breathing slows and relaxes and they begin to drift off, you can very gently snuggle in close.
There are many other points and techniques for insomnia, but this is really the simplest. You don't even have to get up.
Why complicate things? Start with the healing wisdom of ages and allow yourself to believe that it works. Cos it really does!!
Do you use acupressure? Tell us about your experiences with acupressure and falling asleep in the comments below.
---